Discover the Middle Rhine with e-bike, mountain bike, city bike and road bike
Due to the well-developed bicycle network on both sides of the Rhine, you can explore the Middle Rhine excellently by bike.
With one of the many ferries, a change from the left to the right side of the Rhine is easily possible. And because the Rhine Cycle Route mostly runs close to the banks without any major climbs, even inexperienced cyclists and families with children can choose ideal routes for themselves.
Mountain bikers, on the other hand, will find ideal conditions for a varied and athletically ambitious route in the unique cultural landscape with its steep vineyard terraces in the side valleys.
And if you plan a break or two in between, you will have the opportunity to visit the highlights of the Rhine Valley.
At the Rhein-Nahe Touristik in Bacharach you can charge your e-bike free of charge.
Cycling on the Rhine can be combined well with boat and train. The trains of the Mittelrheinbahn connect Mainz and Koblenz every hour, and bicycles can be taken along without registration.
The ships of the Bingen-Rüdesheimer and Köln-Düsseldorfer can also be used, so longer distances are no longer an obstacle even for inexperienced cyclists.
The Tourist Information staff will be happy to advise you on the routes.
Bicyclerental in Bacharach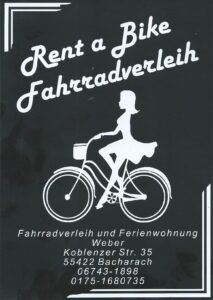 Heidi Weber
Koblenzer street 35
55422 Bacharach
Tel: +49 (0)6743/1898
Mobile..: +49 (0)175/1680735